A LIFETIME DEDICATED TO THE RESEARCH OF AGING PROBLEMS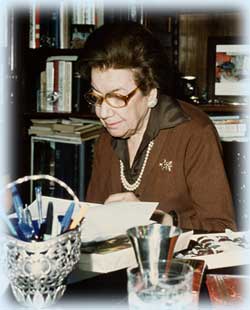 A name, an original treatment with worldwide recognized results in the prophylaxis of aging processes.
General director of the National Institute of Gerontology and Geriatrics, Bucharest, institute named after her, Prof. Dr. Ana Aslan was a top researcher in the field of cytology. She dedicated her whole life to studying and to investigating the causes of the cellular disintegration, resulting in the aging processes. After extended investigations,Prof. Dr. Ana Aslan, and the team of researchers she led, have obtained encouraging results in slowering this processes. An original therapy of regeneration and stimulation of the vital functions of the human organism was set up, worldwide well known under the name of Therapy Ana Aslan. Prof. Aslans idea about the ageless youth and beauty, as well as her results became very popular and appreciated all over the world.
A great number of people came to Bucharest, to Prof. Dr. Aslan for treatment, hoping to regain their vitality and good health. Among them were famous personalities such as: French President Charles De Gaulle, U.S. President John F. Kennedy, West German Chancellor Konrad Adenauer, Chinese Chairman Mao Zedong, Vietnamese Chairman Ho Chi Minh, actresses Marlene Dietrich, Lillian Gish, the Gabor sisters, Charlie Chaplin Kirk Douglas, artist Salvador Dalí ,Sophia Loren,Greta Garbo,Omar Sharif.
Almost all the prestigious universities in the word invited Prof. Dr. Ana Aslan, granting her scientific honorary titles and conferring her government medals. She was a member of The Science Academy of New York, of the World Union of Prophylactic and Hygiene Medicine, honorary member of European Center for Medical Research, president of International Association of Gerontology, president of Romanian Society of Gerontology, etc.
Ana Aslan was, until at an advances age, a very admired, attractive woman, with a fascinating brightness. She never accepted aging in a passive way, because she knew how important a healthy skin and young appearance for a good disposition is. She than dedicated all her creative energy to geriatrics and the ways to preserve physical condition through cosmetical and medical treatment.